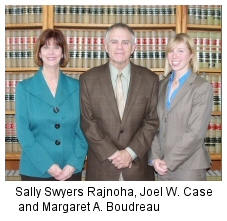 LexisNexis, a leading global provider of content-enabled workflow solutions, today announced the grand prize winner of the LexisNexis Ultimate Law Firm Marketing Makeover contest — law firm Case, Rajnoha & Boudreau, LLP from St. Louis.
The contest judges, comprising online legal marketing experts from inside and outside of LexisNexis, selected the winning firm to receive a comprehensive suite of online marketing services from LexisNexis, helping establish and effectively grow its online visibility and marketing efforts. This $50,000 grand prize package of services includes web design, video production, search engine optimization, robust profiles on leading legal sites Lawyers.comSM and martindale.com®, and more.
"Our team is thrilled to collaborate with Case, Rajnoha & Boudreau, LLP in developing and enhancing its online marketing program," said
Philip Livingston, CEO
, Marketing and Business Solutions, LexisNexis. "We believe a comprehensive marketing makeover from LexisNexis will demonstrate how a strong online presence can help generate impressive, measurable business results, particularly for smaller law firms."
Case, Rajnoha & Boudreau, LLP (http://www.crb-stlouislaw.com/) is a general practice firm with three attorneys who typically handle cases involving dissolution of marriage, paternity/child support, estate planning, probate, and minor criminal infractions.
"We are very excited to have won the LexisNexis Ultimate Law Firm Marketing Makeover contest, and we can't wait to elevate our firm's online marketing presence," said Margaret A. Boudreau, a partner with Case, Rajnoha & Boudreau, LLP. "A comprehensive and aggressive online marketing campaign, particularly one backed by the experience and talents of an industry-leader like LexisNexis, will enable us to grow our practice faster than ever before."
As the grand prize winner, Case, Rajnoha & Boudreau, LLP will now begin working with experts from the LexisNexis Online Marketing Makeover Team to build an enhanced online presence for the firm. This package includes the four major components described below:
Website & Personal Video Production Services: The Makeover Team will work to put a website in place that reflects the firm's personality, is engaging and informative, and employs web design best practices to make it easy for potential clients to find and contact the firm. The team will also shoot, produce and host a custom video designed to drive more prospective clients to the winning firm's website, while also providing prospective clients with greater insight into the essence of the firm.
Online Optimization: The winner will benefit from an appropriate mix of online optimization services designed to enhance search engine relevancy rankings and drive more visitors to their site. The Makeover Team will also leverage placements on relevant legal, business, networking, social media and consumer-facing sites to further enhance the winning firm's online visibility.
Profile Services on Leading Legal Sites Lawyers.com and martindale.com: The winning firm will receive assistance from the Makeover Team to utilize all the features available to represent the firm and its credentials effectively — from practice descriptions to articles and more.
Martindale-Hubbell® Lawyer Ratings: The makeover team will help lawyers engage in the Martindale-Hubbell® Peer Review RatingsTM and Client Review ratings programs. The team will also provide opportunities to highlight credible, independent assessments of the winning lawyers' experience, ethical standing and legal abilities from peers as well as clients, to supplement their profile information and display their hard-earned ratings in creative ways.
About the Contest
The LexisNexis Ultimate Law Firm Marketing Makeover contest was launched on October 29, 2010, to provide small law firms across the United States an opportunity to expand and enhance their online presence for greater visibility and to drive more prospects to their firm. After reviewing written essays submitted by all contest entrants, the judging panel selected five finalists on December 17, 2010. The judges then selected Case, Rajnoha & Boudreau, LLP as the grand prize winner after reviewing videotaped "oral arguments" in which the five finalist firms articulated their desire and need for online marketing services. The other finalists will receive complimentary LexisNexis® products and services, including help from the LexisNexis Online Marketing Makeover Team to enhance their online presence.
The judging panel comprises David Lat, founder and managing editor of Above the Law (abovethelaw.com); Larry Bodine, business development advisor and editor of LawMarketing Blog (blog.larrybodine.com); Carolyn Elefant, attorney and editor of MyShingle.com; and David Palmieri and Carol Eversen, both vice presidents at LexisNexis.
To learn more about the contest, visit www.legalmarketingmakeover.com.
LexisNexis® (www.lexisnexis.com) is a leading global provider of content-enabled workflow solutionsdesigned specifically for professionals in the legal, risk management, corporate, government, law enforcement, accounting, and academic markets. LexisNexis originally pioneered online information with its Lexis® and Nexis® services. A member of Reed Elsevier (www.reedelsevier.com), LexisNexis serves customers in more than 100 countries with 15,000 employees worldwide.
For more info, contact John Michaels, LexisNexis, (202) 857-9121, john.michaels@lexisnexis.com