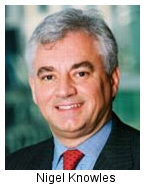 DLA Piper announced Thursday that it would form the world's largest business law firm by fully integrating the Australian firm DLA Phillips Fox, giving it more than 4,000 attorneys and making it a legal giant in the Asia-Pacific region.
DLA leapfrogged over Baker & McKenzie, which has 3,775 lawyers, and displaced it as the world's largest law firm.

The firms agreed on the terms for the full merger, which is expected to win approval from partners in both firms by the end of February and to be completed effective May 1.

Sir Nigel Knowles, Co-Chief Executive Officer of DLA Piper and Frank Burch, Global Chairman of DLA Piper commented:
"The cementing of the relationship between DLA Piper and DLA Phillips Fox is part of our global strategy and is an integral part in helping us become the world's leading business law firm. As part of our strategy we are committed to expansion within the G20 nations, and with Australia as the 14th largest industrialized nation it provides excellent opportunities with its strong ties to some of the most rapidly growing economies in Asia. With the integration of DLA Phillips Fox, DLA Piper will be the world's largest business law firm, uniquely positioning our firm to serve the world's leading enterprises wherever they may conduct business."
The Asia Pacific business will have revenues expected to exceed £195 million ($310 million) and will comprise over 700 lawyers in Australia, China, Hong Kong, Japan, Singapore and Thailand plus more than 300 lawyers from the West Coast of the United States. The firm will still be called DLA Piper.
The move comes as the Asia- Pacific region takes on an increasingly larger role in the world economy. The tie-up will help the firm capitalize on the convergence of the Australian and Asian markets, with strong trade between China and Australia and multinational investment in both jurisdictions fueling legal work in 2011.

The integration will push DLA Piper's footprint to more than 70 offices across 30 countries.
DLA Piper's Asia-Pacific business is expected to have more than 700 attorneys in Australia, Hong Kong, Japan, Singapore and Thailand and revenues exceeding £195 million ($310.3 million), the firms said. After the integration is complete, Alastair Da Costa, DLA Piper's Asia managing director, will become managing director for the Asia-Pacific business.
Burch has pointed to the so-called BRIC countries — Brazil, Russia, India and China — as an area of growth for law firms.

"It's pretty simple," Burch told Law360 late last year. "If you look at where the large multinationals and the most attractive emerging technology companies are generating their revenue and their net income and where they expect to see the most growth, it's in the BRIC countries."