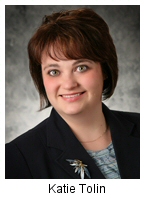 Determination, data and deliberation have led accounting firm marketer Katie Tolin to lead her firm to new business, practical training programs, and an innovative rapid-response event that generated hundreds of leads. Law firm marketing can learn a lot from her, judging by her results:
Firmwide revenue has doubled from $15 million to $30 million since she joined the Rea & Associates, Inc. accounting firm in 2003.
The firm has a 74% "win rate" for proposals drafted in a process she revamped.
Since she implemented a sales pipeline, the firm has won more than 400 opportunities and nearly $8 million in new business.
More than 800 leads were generated by the firm's partners in a "Speed Leads" session (similar to "speed dating") she organized. Two dozen opportunities have already been closed.
She was named the 2010 Marketer of the Year by the Association for Accounting Marketing in a competition where she was nominated by her peers." It is her 8th award for marketing excellence.
"As a marketer, I am first a student and then a teacher," she said. "I have to learn about what we're selling, who's buying, why they buy and what triggers them to do so. Then how do we help them? What is it we do? What's the end result? Once I fully understand the prospective clients' needs, I then digest that information and teach others what I've learned."
To read more about Katie and her amazing success, visit the LawMarketing Portal.