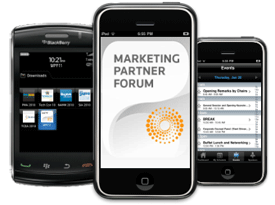 West LegalEdcenter, part of Thomson Reuters, today announced that attendees of its annual Marketing Partner Forum can download a free smartphone mobile app that will enhance their event experience. The Marketing Partner Forum app, available from the event's website, offers many features including:
Interactive show schedule
Exhibitor listings and product searches
Interactive floor map
Show alerts
Social media interaction
Exhibitor e-brochures and product information available for download
The Marketing Partner Forum app stores as a native application for iPhone/iPod touch, BlackBerry and Android users, and is available as a Web-based application for all other smartphone users.
"We're excited to bring this new technology to the attendees and exhibitors at this year's Forum," said Lee Ann Enquist, vice president, West Professional Development. "Mobile devices are reshaping the way the legal industry does business, and the Marketing Partner Forum app illustrates how we are embracing and expanding on-trend, business-grade smartphone applications."

The Marketing Partner Forum, presented by West LegalEdcenter and Hildebrandt Baker Robbins, will be held Jan. 19-21, 2011, at the Intercontinental Hotel in Scottsdale, Ariz. The Forum is the premier annual event for law firm marketing and managing partners, in-house counsel and senior-level law firm marketing and business development professionals who want to sharpen their knowledge about emerging trends shaping the legal industry.