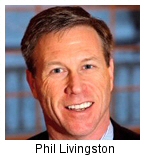 LexisNexis today announced the names of the five finalists in the "LexisNexis Ultimate Law Firm Marketing Makeover" contest, selected by a panel of legal marketing experts (one of whom was me). Each finalist firm will next "plead its case" with a videotaped "oral argument" to the contest judges explaining why they should be the grand prize winner.
Launched last October, the contest offers small law firms across the US an opportunity to enhance their online presence, provide for greater visibility and attract prospective clients to their firm. The five finalist firms will now compete for the grand prize – a comprehensive suite of online marketing services from LexisNexis worth $50,000 that includes web design, video production, search engine optimization, robust profiles on leading legal sites Lawyers.com and Martindale.com, and more.
Philip Livingston, senior vice president, LexisNexis Marketing and Business Solutions and CEO for Martindale-Hubbell, said "Our finalists demonstrated in their contest submissions that they believe online marketing services from LexisNexis can help them reach their business goals in 2011 and beyond, and our team looks forward to collaborating with them to help make that happen."
The Finalists:
Judges picked the five finalists based on a review of short essays submitted by all entrants in which they articulated their desire and need for online marketing services in a "written argument." The five law firms selected to compete for the grand prize are listed below in alphabetical order:
1) Case, Rajnoha & Boudreau, LLP: This three-attorney firm was established in 1973 and is located in the St. Louis suburbs. They are a general practice firm that frequently handles cases involving dissolution of marriage, paternity/ child support, estate planning, probate, and minor criminal infractions.
2) The Chetson Firm, PLLC: Raleigh criminal lawyer Damon Chetson represents people charged with serious felonies and misdemeanors in the state and federal courts of North Carolina.
3) DeutschJacobs, A Law Practice: This two-lawyer firm focuses on family law as well as legal issues confronting small businesses and consumers. Based in Austin, Texas, the firm opened its doors in 2009.
4) Fahnert LLC: Marie Fahnert is a solo practitioner who employs two paralegals in her Chicago-based family law firm. Ms. Fahnert started her practice four years ago shortly after graduating from law school.
5) Simplicity Law: Simplicity Law employs four lawyers with offices in the Denver, Phoenix, San Francisco and Los Angeles areas. The firm launched in 2009 with an exclusive focus on small business legal issues.
The five finalists will next submit a short video to "plead their cases" for the panel of judges. The videos will be available on the contest website in January. These short interviews will show the finalists making "oral arguments" supporting their case for why their law firm should win the contest grand prize. After reviewing the video submissions, contest judges will choose the grand prize winner based on their performance in both the "oral" and "written arguments." The grand prize winner will be unveiled at an exclusive dinner event in New York City on January 30, 2011.
The judges panel comprises legal marketing experts David Lat, founder and managing editor of Above the Law (abovethelaw.com); Larry Bodine, business development advisor and editor of LawMarketing Blog (blog.larrybodine.com); Carolyn Elefant, attorney and editor of MyShingle.com; and David Palmieri and Carol Eversen, both vice presidents at LexisNexis.