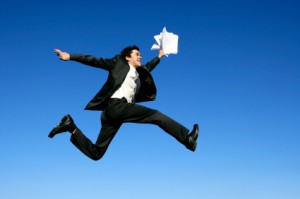 When I worked as the marketing director at an AmLaw 100 law firm, the marketing partner was skeptical of hiring lateral partners to add new business. "Easy on, easy off," was his viewpoint. New research now backs him up: lateral partner hiring fails frequently as a business development technique.
Almost half of lateral partner hires leave the firm they join within five years, and up to a third leave after three, according to new research by Motive Legal Consulting in the UK.
The statistics show that a significantly high proportion of the partners that US firms hired -- for the core areas of ­corporate and finance -- leave shortly afterward. US firms lost 42 per cent of their 2007 corporate hires by the end of 2010.
The research is based on 1,944 partner moves that took place between 1 September 2005 and 31 July 2010.
Revolving door
The results were striking. Within three years of joining, a third of all partners had moved on. And after five years that jumped to 44 per cent.
Compared to UK law firms, US law firms were the poorer ­performers. Over five years US firms in London took on 540 partners. In certain core areas, such as finance, 45 per cent of these partners had left their firms by July 2010.
Take a shorter time frame and the results are just as startling. Of all the partners hired into US firms in ­London from the start of 2006 to the end of 2008, a total of 330, 36 per cent had left by the end of 2010. At UK firms over the same period, 27 per cent (221 partners) had moved on by last year.
The immense cost of hiring alone should be a warning as to the ­importance of these figures. One ­senior HR director estimates that the average cost per hire at his firm is £150,000. On those numbers, that 36 per cent translates into £17.8m worth of wasted effort.
For more information, please see here.