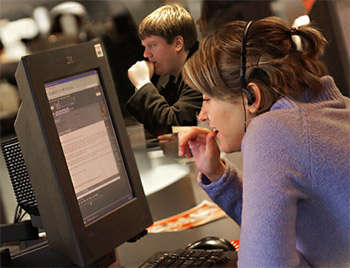 I am enjoying getting calls from marketing students 3,000 away. They are calling like crazy right now because their assignment is due today.
I knew something was up when I got the second call from a student from Hawaii. She was one of many callers with questions about advertising on the LawMarketing Portal, a website I've operated for 15 years. Some of them couldn't find the rate card (you must click on "About Us" to find it) and others wanted to know the cost per click.
At this point I started asking questions.
It turns out that Raphael Boritzer -- whom I've never met -- is the teacher of an online course "Marketing 400," which students at the University of Hawaii must take to earn an applied business and information technology degree.
Here is the setup he gave his students: "As an Advertising Director for a direct marketing firm specializing in the legal industry, you are charged with putting together an online advertising purchase. The purpose for the ad is to get law firms to use your company for mailing services to potential clients. You are going to consider advertising on LawMarketing.com, and use hypothetical results to practice advertising metrics commonly used by online advertisers."
"First, visit LawMarketing's rate card at the address below and answer the following: http://www.lawmarketing.com/pages/advertising.asp?PageTextID=18
How many visitors does the LawMarketing home page get in a month?
How many people receive the LawMarketing e-mail newsletter?

What is the size in pixels for a banner ad (see ad standards at Interactive Advertising Bureau to understand pixel sizes: www.iab.net) and the cost for this ad on the home page?

What is a text ad in LawMarketing e-mail newsletter and what is its cost?

What is the CPM for each of these ads?

Which is a better buy? Why?

...and so on...
I want to make sure the students all get "A" grades, so I happily give them the answers -- and have also put them online.