I just sat in on a HubSpot webinar, "2011 Report - The State of Inbound Marketing." They surveyed 644 respondents in a wide range of industries and company sizes, and compared 2011 responses to 2009 and 2010 surveys.
HubSpot found that Blogs are still great marketing investments. Every post you publish is a long-term asset and is helping build brand and awareness. Blogs and social media really do generate clients. The more often you blog, the more likely you are to acquire clients. There is a big drop-off in client acquisition if blog monthly or less often.
Social media are also important in client acquisition. For professional services firms – LinkedIn was the most effective channel, followed by blogging, then Facebook and Twitter rounding out the bottom. Law firms seeking consumer clients had success with Facebook and their firm blog.
Marketing money-wasters included trade shows, pay per click, direct mail and telemarketing, which had the highest cost per lead. Large firms are spending the most money in these areas, mainly because "it's always been done this way." And as we all know, yellow page advertising is a waste of money. Many businesses have discontinued their YP ad and seen zero decrease in leads.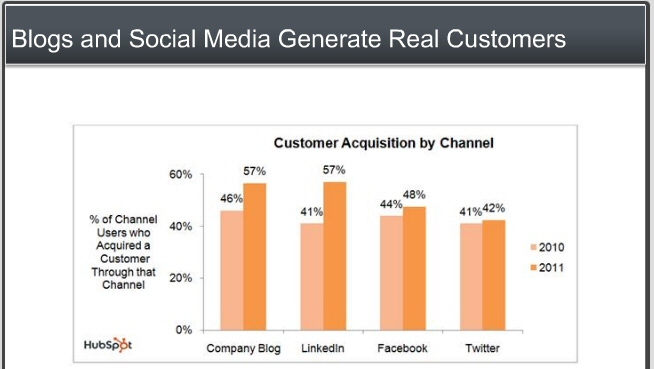 If you're not blogging, you're in the minority: 65% of businesses have a blog. 27% of respondents said the company blog was "critical" to business – the highest percentage ever. To a lesser degree, Linkedin, YouTube and Facebook and twitter were found "critical." Flickr, Digg, StumbleUpon and MySpace were considered "not useful."
HubSpot has 4,000 customers that use their software to execute on their inbound marketing. A copy of the slides is online.