Brand new research finds that lawyers can earn top dollar from corporate clients with litigation in four areas:
Commercial litigation, a market with $6.8 billion in legal fees. This high-growth, high-fee litigation involves supplier agreements, strategic relationship and outsourcing agreements that went bad. Industries seeing this litigation include energy, high tech and manufacturing.
Employment litigation, a $4 billion market. These cases are driven by wage and hour cases, trade secrets and federal reclassification of employees.
IP litigation, a $2.6 billion market. Companies were hoping to spend less on this area in 2011, but activity is increasing instead.
Securities litigation, a $2 billion market. This practice has the highest premium rates because of increasing shareholder activism. The cases involve companies in banking, financial services, chemicals and refineries.
The data was released in BTI's Annual Study of Corporate Counsel. BTI interviewed 240 in-house counsel in one-on-one telephone interviews. Respondents included 18% of the Fortune 100 at companies with a median revenue of $3 billion, and also litigation leaders at large and mid-size law firms.
BTI estimated the US market for litigation at $21.1 billion.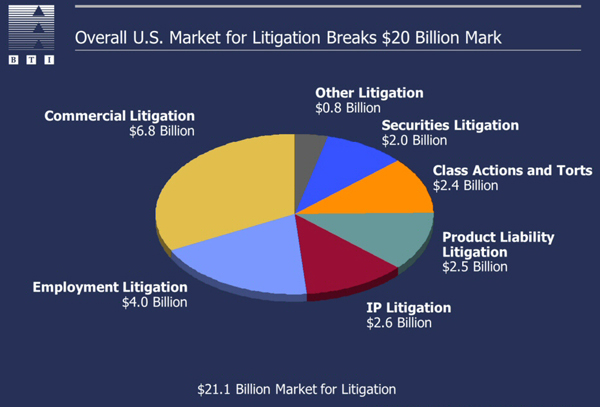 Other key takeaways for litigators are that:
35% to 40% more clients want to settle cases compared with three years ago. Law firms that can "speak fluent settlement" will get a client's checks faster.
36% of litigators are earning higher profits through alternative fees. These litigators are earning more than they would with hourly rates.
14% of corporations control 80% of the dollars spent on litigation. These companies -- 150 clients on the Fortune 1000 list -- spend 30 times more than the amount an average company will spend. However, they are also the most demanding clients.
Product liability litigation is an area with heavy pressure on rates because so many law firms practice in the area, making it very competitive. Further, corporations assert that the litigation is formula driven, they dictate what the legal fees should be and know what the settlement value of a case is.
Litigation overall is expected to grow only 1%, but law firms say they want their practices to grow by 5% to 6%. The only way this will happen is by taking clients away from competitors.