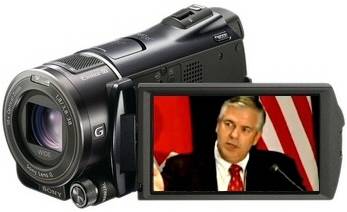 By following these simple directions, you can create your own studio for less than $1,500. It helps if you have a do-it-yourself attitude and a thrifty for approach to life. Here's how I did it.
Start with an empty office in your firm. Then sit down in it and read the following book: YouTube for Business - Online Video Marketing for Any Business by Michael Miller - used for $10. It will teach you about the equipment you'll need, lighting and camera techniques like shooting angles and the "rule of thirds." The book will show you how to edit your video and upload it to YouTube.
Then get an HD camcorder. Do not cheap out on the camera. Get yourself a Sony HDR-PJ10 Camcorder at Best Buy for $700. It sells online for $595. The key features are an input jack for a microphone, a high-speed USB port to transfer the video to your computer and a wireless remote. It also has neat swing-out viewer to see yourself while you're recording. Check Cnet for reviews of other camcorders. Do not get a Flip camera because it has no mike jack and they're not making these cameras anymore.

Also pick up a 72" tripod (tall enough for stand-up videos) - $40 - and a wireless lavaliere mike - get an Audio-Technica PRO88W-R35 on Amazon for $140. Do not rely on the camera's mike which will pick up background noise. For lights, get a pair of Flashpoint SoftBox, 70 watt fluorescent lights units with a nine-foot light stand. Cost: $60 online per kit. Finally, visit a good camera store and get a muslin backdrop with a stand - $200.
There are two choices for video editing software. I recommend Vegas Movie Studio HD Platinum 10 for $99 with "show me how" videos. The software lets you add titles, captions, transitions, trim the video and tweak it. Mac users should get Final Cut Pro.
You don't need to be George Lucas to shoot video. I use a straightforward, non-glitzy style. Check out my initial work on YouTube. So far I have 77 subscribers without really trying. I think that videos that are overly busy with editing razzmatazz distract from the content -- which is you.