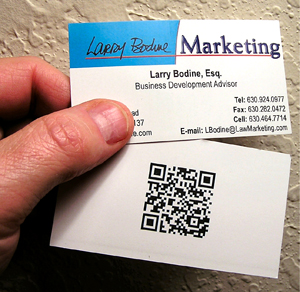 Here's a nifty law firm marketing technique: I just got 100 business cards with my custom QR code on the back from Office Max for $30. If you're going to the LMA conference, you can give the cards to your colleagues, who can read the code with their smart phones.
Where do I get my free QR code? Go to www.vizibility.com and fill in the blanks. You will get a graphic of your QR code. It's a .JPG file you can download onto a flash drive. Take this to your printer and have them put it on the back of your cards.
How do I read the QR code? Get a free app for your smart phone. Get NeoReader, Optiscan or QR App for an iPhone, or Google Goggles for a Droid, or BeeTagg and UpCode for a Blackberry. Using the app, take a picture of the QR code. It will reveal the data contained in the QR code.
What the heck is a QR code? QR is short for Quick Response code, which can store web links, text or all the information on your business card. They were invented by Toyota in 1994. Below is what my QR code contains: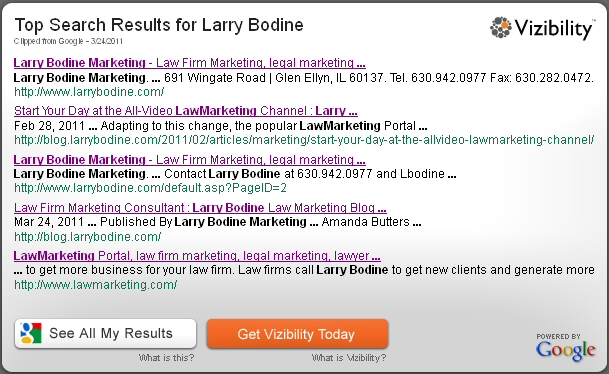 Want to see how it works? Check out the demonstration in this video.