Online directories are the most popular marketing initiative for small law firms, with about 52% employing them and more than 17% deeming them most effective, according to the new 2011 Small Law Firm Report, a survey by Total Attorneys of Chicago.
The move toward online advertising reached beyond online directories: more than 28% of respondents reported using Google AdWords or other pay-per-click campaigns, and 15% employed online display ads, according to the survey.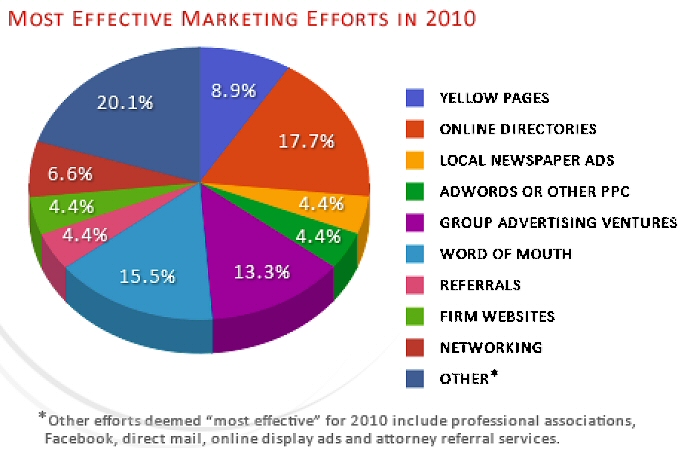 Many attorneys also reported taking advantage of free or low-cost opportunities to promote their law firms. Some of the most popular efforts included local networking (50%), online networking (34.7%), social media (36.9%), speaking engagements (34.7%), asking departing clients for referrals (45.6%), blogging (32.6%), publications relevant to client base (21.7%) and free events (21.7%), according to the report.
Only 37% of the solo and small firm attorneys responding to our survey are currently advertising in the Yellow Pages, and only 8.7% listed Yellow Page advertising as the most effective among their current marketing efforts, the report found.
32.6% of attorneys indicated that they expected to increase their marketing investment in 2011. 58.7% expected their marketing budgets to remain about the same, while fewer than 7% expected to cut back on marketing expenditures this year.

Survey results revealed many untapped opportunities for attorneys looking to grow their law practices in the coming year, both paid and unpaid. For example, a small percentage of attorneys reported using group advertising ventures as part of their current marketing plan, but of those who did approximately 2/3 listed those ventures as their most effective marketing efforts. And although more than 15% of attorneys reported that word of mouth was their most effective means of bringing in new clients, more than half of attorneys responding to the survey do not currently ask departing clients to refer friends or relatives as legal needs arise in the future.
Among the respondents of the Total Attorney's survey, 64% were solos and 36% "small" law firms.
Total Attorneys delivers marketing, software-as-a-service and industry-focused call center services to small law firms and solo attorneys through its technology services platform. The platform allows the company to accomplish its mission of improving lives through innovation in access and delivery of legal services. Total Attorneys was ranked in the top five on the Crain's Chicago Fast Fifty lists for 2008 and 2009.