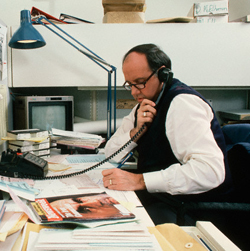 I found this great post on the Attorney at Work blog:
Reporters will call you—whether you're working on a case with public interest or they simply want some expert commentary. While you can't control what the reporter writes, you can use some techniques to increase your chances of a good outcome.
Don't just start talking. If you are surprised by a reporter's call for an interview, try to delay giving answers immediately. Ask what the reporter needs, the deadline and what other kinds of experts the reporter may need to interview. Find out the bottom-line question. Keep a friendly tone and commit to call back—and call back exactly when you say you will.
Sum it up. The headline is the summary of the story, so think: If you could write the headline for this article, what would it be? Build all your comments with that headline in mind.
Write down your key points. Once you start an interview, you have a better chance of sticking to your topic and getting the ultimate quote you want if you write down your key points in advance—no more than three or four—and repeat and reinforce them in a variety of ways. If you overload the reporter with too many details, your published quote might not resemble what you said.
What are the facts? Once you know your key points, have facts and figures in hand to back them up. You'll increase your chance of being quoted if you provide facts key to the story.
"Frame" your most important point. To get quoted, make comments short, clear and framed with key phrases like "what's really important to remember is …" or "the bottom line is …" or "I hope you understand that …." If you flag it, more than likely the reporter will write it down.
For the rest of the post by marketing and public relations consultant Leigh Ann Nicas please see here.