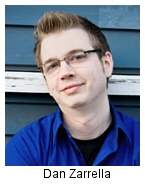 I just attended a useful Hubspot webinar on "The Science of Timing." Yes, the time of day and the day of the week when you send your tweets, emails, Facebook updates and blog posts make a difference. According to social media scientist Dan Zarrella:
1. Very early in the morning -- 5 AM to 7 AM is a great time to catch people's attention with Twitter, Facebook, email and blogs.
2. The more active you are, the better your traffic and response rates. Frequency is good for all four media.
3. Surprisingly, weekends are a good time to reach people.
4. Time your activities to be seen in the Eastern time zone, where most people in the country live and work.
Of course, there are corollaries. Going into more detail, Zarrella said:
If you want to be re-tweeted, send your own tweets from 2-5 PM (all times are Eastern) and late in the week.
The more you tweet, the more followers you'll get. But put some space between your tweets -- don't send 6 tweets in one minute. Spread them out.
On Facebook, most people "share" on weekends, because Facebook is blocked at most people's workplaces.
Articles published on Facebook at 10-11 AM get the most "shares." The second-best time is 7 PM.
The best time of day to send an email is 5-7 AM. 95% of people check their email early in the morning on workdays, and you'll get the most opens and clickthroughs then.
Experiment with sending emails on weekends, when open rates and clickthroughs are at their highest. The business world is offline then, and your message will get more attention.
Send special offers and messages to your newest email subscribers. Your newest subscribers are your best, because they remember your company and brand.
Regarding blogs, most people read them in the morning, and readership gradually tapers off toward the night time.
The best time to get the most views of your blog posts is 10-11 AM.
Most blog comments are made from 7-10 AM on Friday, Saturday and Sunday.
Bloggers will get the most linkbacks from other bloggers if you update your blog from 6-7 AM. That is when other bloggers are up early, looking for source material.
If you can update your blog more than once a day, "you are way beyond anyone else in your industry," Zarrella said. This is why news media blogs get the most traffic.
To get more readers, update your blog more frequently, regardless of how often you post new items.