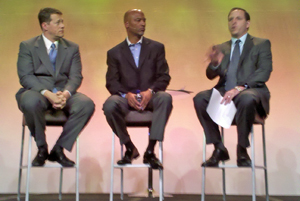 GCs Jeff Novak, John Lewis, Jr. and Stephen Kaplan.
"We got sued in New York," GC John Lewis said. "One firm came to us and said they knew the judge and had beaten the opposing counsel. I had heard that pitch before. But I was impressed when they said, 'we are so confident we can win a motion to dismiss, we've already drafted it. We'll charge you a flat fee of $25,000 if we win. If we don't win, you don't have to pay us anything.'" He hired the firm, which won the motion, and his company now uses the law firm.

Three GCs speaking at the LMA national conference in Orlando described the novel approaches that are required to displace an incumbent law firm. The program was sponsored by InsideCounsel, and the discussion was led by Group Publisher Tom Duggan and Editor-in-Chief Cathleen Flahardy.
The GCs were:
Jeff L. Novak, General Counsel, AOL Paid Services. He was a partner at McGuireWoods, and he has cut company's outside legal spend in half.
Stephen B. Kaplan, Senior Vice President & General Counsel of Connextions, Inc.
John Lewis, Jr., Senior Managing Counsel-Litigation of the Coca-Cola Company.
Legal fees
"Firms we have grown relationships with understand that cost is a big issue," Novak said. "Few of our firms actually ask us 'how do you measure out success?' 'How can I make you look good?' That's the law firm's job."
"Marketing is a core competency that is missing among lawyers," Lewis said. "You can't find unmet client needs unless you get to know the client. Law firms are spectacularly bad at asking 'what keeps you up at night?'"
"When my budget was cut, some law firms stopped calling," Kaplan said. "Other firms took the law firm and thought about what complimentary things they could offer me, and make me look good in my desperate hour. These are the firms I will be hiring in the future."
Novak said lawyers should be like a therapist to in-house lawyers. Law firms should look for work that can be "de-lawyered" and transferred to a paralegal.
"I could tell a firm was worth the spend when they asked me, 'what does a win look like for you?'" Kaplan said. "I thought that was novel thinking." He added that other law firms that charge $1,000 per hour have "self-selected themselves out of my work."
"We have changed from a profession to group of vendors who compete against each other based on price, and that is a race to the bottom," Lewis said. "Think of the airlines. They used to compete against each other based on the level of service."
Knowing the client's business
"I hired a young lawyer to work in-house at the company. She did something no one else did: she read our 10-K form. She came in prepared. It's not acceptable today not to know about the company."
"I need to know what's going on with the company if the CEO gets on the elevator with me," Lewis said. "I appreciate when a law firm tells me, 'here's something you may want to see.'"
Diversity
"I don't know when the talent pool for diverse lawyers is ever deeper. Not having a diverse law firm is unforgivable," Kaplan said. "We always ask ourselves how can we sell to an emerging market? How can we look like them? Law firms have a disconnect with reality on that point."
"85% of the purchasing decision are made by women. Latinos will become the dominant demographic in this country," Lewis said. "Law firms need to reflect that."