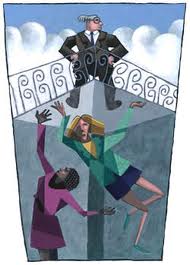 Yes Virginia, there is a glass ceiling in the legal profession. It's invisible, but it highlights the disparity between men and women lawyers. The latest evidence that women are shortchanged in the law is found in the 2011 Billing Rates & Practices Survey published by ALM Legal Intelligence.
Across the board, the average billing rates for women partners and associates are consistently lower than those of their male counterparts.
The average billing rate for males is $312 and for females it is $259 at a national level, representing more than a 20 percent gap, according to the ALM survey. The highest average hourly rate is $935 for males and $625 for females.
Women are never going to achieve equality in the profession until their fees match the rates of male lawyers.
Females have consistently lower average billing rates than males, across all firm sizes and titles (equity partner, associate, etc.)
The top specialty areas with the highest average hourly billing rate for males include commercial/contract litigation ($352), intellectual property non-litigation ($341) and real estate non-litigation ($333).
Females have the highest average billing rate for intellectual property non-litigation ($316), trusts/estates/probate non-litigation ($287) and commercial/contract litigation ($286).
Copies of the report can be purchased at LawCatalog.com.
The survey focused on the billing practices of attorneys in small, midsize and large practices. Only U.S. law firms are included in this study. Sole practitioners were excluded from this report. A total of 176 firms provided usable standard hourly billing rate data for hourly billing rates for 10,913 lawyers, including 3,712 associates, 6,236 partners/shareholders (equity and nonequity), 608 active counsel and 357 staff lawyers. The standard hourly billing rate is defined as the most commonly assigned (standard) hourly rate.