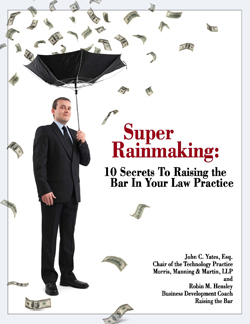 This is an excerpt from Super Rainmaking: 10 Secrets To Raising the Bar In Your Professional Practice, a new book by By John C. Yates, Esq. Chair of the Technology Practice, Morris, Manning & Martin, LLP, and Robin M. Hensley, Business Development Coach, Raising the Bar.
---
Think of business development as a team sport. If you have a person on your team that continually shoots the ball and misses, provide constructive guidance and explain the importance of passing to others. In business development, the equivalent may be the team member who talks too much or interrupts just before the prospect has a chance to present his greatest needs.
The guidance and coaching of a senior member can be very important, because not everyone has been trained in the art of business development. Very few of us receive any formal business development classes in grad school – we are forced to learn on the job.
Provide candid feedback that will help others and your team to succeed, such as, "Listen to the prospect first before adding your two cents. Let the prospect tell you about his problems and issues and then adjust your response accordingly."
Would your lawyers benefit from business development training? To learn about a custom program for your firm simply click here.
Or, "When you're making your presentation to a prospect, sit on the edge of your chair. Don't rock back -- it makes you look like you're uninterested. Show a level of enthusiasm and attention that will impress the prospect."
Or, maybe your constructive comments are: "When we are having lunch with that prospect, don't gobble your lunch down in the first 30 seconds, before anybody else has even picked up his fork."
You may communicate, eat or relax that way at home, but you need to be aware that a client prospect setting is different. Unless you provide your colleagues with candid feedback, they will not be able to improve in business development.
It goes both ways, too. You, as a business development leader, must be willing to receive constructive feedback. It is going to make you more effective. One of the best ways to get honest feedback on this subject is to ask your clients. It is very hard to do, but necessary if you are to improve in business development. Ask your prospects and clients several simple questions:
What do you like about the service we deliver?
What do you like about the way we provide services?
What did you like about that pitch that we made?
What did you not like?
Asking for feedback is the best way to improve the way you make a presentation and deliver services to clients.
You can get a copy of the book at www.raisingthebar.com/info/bookstore.html