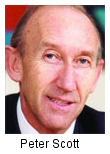 One of the most common complaints from managing partners of law firms is that they cannot get their partners to open up their client bases to partners in other disciplines so that the firm can successfully 'cross-sell' other practices. This remains a tricky challenge for business developers and marketers across the law spectrum.
On the LawMarketing Channel, Peter Scott lays out six steps to change cross-selling into co-selling:
Map the client base (or say the top 50 clients by revenue) against the range of services/practices they have used from the firm in the last 24 months.
As a pilot, take stock and brainstorm potential key issues for six clients.
Identify gaps and potential areas of interest based on an initial view of likely issues for that client
Undertake client reviews to ascertain what is of true value to the client
Take each partner in turn and identify say six clients each of which is spending a reasonable amount with the firm already, but for whom the firm is only providing a limited range of services but where your research shows that each of those clients are likely to have other law needs (even if those services are provided by others.)
Identify a group of 'hungry' partners from each of the areas of work represented in the 'gaps' to meet with each individual partner. Marketers may want to facilitate the discussion (or use a 3rd party) and discuss in detail:
- the needs of each of the six clients serviced by that partner as revealed by the research carried out;
- ways in which those other partners can be carefully introduced to the six clients with a view to getting to know them and their businesses and hopefully then winning work from them;
- how many of the key decision makers are known to the firm and where gaps exist;
- approaches to build a broader relationship.
To read the entire article please visit http://bit.ly/hOwyTK