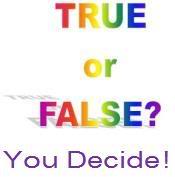 I was surprised to read read that less than 1% of web site visits come from social media, according to research findings released by ForeSee Results and reported by The Social Graf.
I'm not sure I believe the results because this would mean that online social networks are a flop at driving traffic to websites.
Checking my own traffic logs for this blog, I find that Twitter is among the top ten sources of visitors. I use Twitter a lot and include headlines and links to new posts on this blog, so readers are definitely clicking on the links.
Yet The Social Graf blog reports that fewer than 1% of visits to Web sites come directly from a social media URL. When I read the actual ForeSee report, it says that "Only about 5% of online holiday shoppers report being primarily influenced to visit top retailer sites by social media." So somebody doesn't have their facts straight.
The alleged disparity between the proportion of Web site traffic coming from social media and search is even more remarkable when you remember that people spend more time overall on social media. Clearly, search remains a more effective platform for connecting consumers directly to Web sites (provided, of course, marketers are diligent in areas like SEO and SEM.)
For more on these surprising findings see here. Tell me if your experience matches what the reported statistics claim.