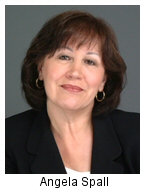 Motivating yourself as a lawyer to pursue business development is a perennial challenge, but veteran marketer Angela Spall of Richmond, VA, has a great suggestion:
"Incorporating even one business development activity into your every day professional life will become a habit. That habit becomes integral to what you do every day and it becomes easier," she said. "There is no magic bullet – so stop waiting for it. It is work. It removes the element of magic from rainmaking and places the daily activities required to maintain a solid client base squarely in the reach of every lawyer."
Angela has worked closely with law firms, practice teams and individual lawyers for 21 years at firms like Williams Mullen in Richmond, Calfee, Halter & Griswold in Cleveland, and Lionel Sawyer & Collins, Las Vegas,
"I have found it takes far more than an occasional meeting or a presentation to encourage lawyers to adopt successful business development habits. Business development habits have to be identified and then practiced on a consistent basis," she added. This matches my own experience training lawyers -- a one-day retreat will arouse interest, but it's the six months of follow-up coaching that accomplishes change.
Why is practice development so important? "I've never met an unhappy rainmaker. I have seen unhappy lawyers, with diminished billable hours, and living with uncertainty. Bringing good business development habits consistently to the practice of law will ensure a lawyer's long term success—and the success of the law firm," she said.
Angela is a superb marketer and strategist, and I recommend you contact her, at aspall@spallconsulting.com or 804-882-6809.