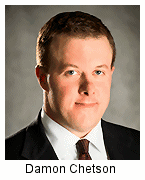 The number of recent law graduates going solo jumped from 3.5% in 2008 to 5.5% in 2009 -- the biggest one-year jump in two decades, according to the National Association for Law Placement (NALP). The loss of 54,000 legal services jobs in the last three years is a driving force.
Many new solos are prospering, thanks to their savvy use of websites, blogs, Facebook, Twitter and LinkedIn, according to an article on msnbc.com. Nearly 50% of all lawyers in private practice are solos, according to the ABA.
Criminal defense lawyer Damon Chetson publishes a website, where he still attracts the majority of his clients, according to msnbc. Meanwhile he actively writes the Raleigh Criminal Lawyer blog and is active on LinkedIn. He said he earned more last year than the $150,000 a mid-level associate makes at a big law firm.
New solo Rachel Rodgers of Phoenix bills herself as "online legal counsel for Generation Y Entrepreneurs." Her online office lets clients check the status of their case, receive legal documents, provide a contract to review and even pay their invoice.
She's on Twitter, Facebook and LinkedIn, where she belongs to the Legal Blogging group.
She told msnbc, ""There have been times when I've woken up in the morning and I have new clients," she said. "They've found me online somehow and I've never had any interaction with them, but now they're my clients. It's pretty sweet."