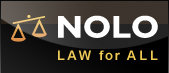 Most of us missed the news that Nolo, which has been a consumer-focused online lawyer directory since 2006, has been sold to the media company Internet Brands. Nolo will be combined with ExpertHub, and will sell leads from consumer clients to attorneys.
ExpertHub generates leads from a network of legal, financial, accountant, plastic surgeon, chiropractic, or dental websites that consumers find when they research their particular problem.
According to a 2009 LawFirms.com user poll, 50% of consumers who responded spent more than 2 hours researching their legal issue before submitting a case inquiry. 16% of consumers spent 1~2 hours, 17% spent less than an hour, while only 18% did not research their legal issue before talking to a lawyer.
Experthub screens the inquiries and emails the leads to attorneys who have reserved geographic areas. The lawyers pay per lead or a flat rate.
Nolo has changed dramatically since it was launched 40 years ago as a counterculture publisher of do-it-yourself legal books. Nolo claims its books, software, online legal tools and legal forms have saved Americans more than $1 billion in legal fees since then. Nolo introduced Quicken WillMaker, which sells online for about $35.
Internet Brands owns and operates more than 200 principal websites in seven categories. The company
currently attracts, on average, more than 79 million unique visitors per month viewing 715 million pages,
with 97% of the network's audience originating from organic, non-paid sources.