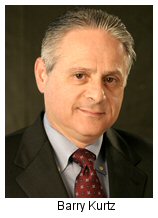 David Ackert recently interviewed Barry Kurtz for Practice Boomers. The subject was "Niche Market Branding." Kurtz is a well-known franchise attorney in Los Angeles — a brand that took him many years to establish. It all started 30 years ago when a client of his asked him if he could help them with a franchise matter.
From there, Kurtz he immersed himself in that niche until he knew more about it than his competitors. Now, his reputation attracts business. Everyone in his network knows him as "the franchise attorney." Most of his clients find him through word-of-mouth or through his website. (If you Google "franchise lawyer," Barry shows up midway down the first page. And his site has become a significant feeder for his practice.)
Here's a short excerpt from the interview:
Barry Kurtz interview – excerpt
By the way, Practice Boomers offers online video training in business development. Every week you get a 5-10 minute video lesson via email, including action steps to take. The lessons cover everything from goal setting, branding & differentiation, creating a niche, networking, communities, social networking, client service strategies, to time management. I recommend it.