Follow @LarryBodine The highest percentage of online consumers think having a LinkedIn account is important, according to an April 2011 study from ROI Research and Performics. Data from "S-Net: A Study in Social Media Usage and Behavior" indicates 59% of online consumers rate having a LinkedIn account 4 or 5 on a five-point importance scale, compared to 53% giving this level of importance to having a Facebook account.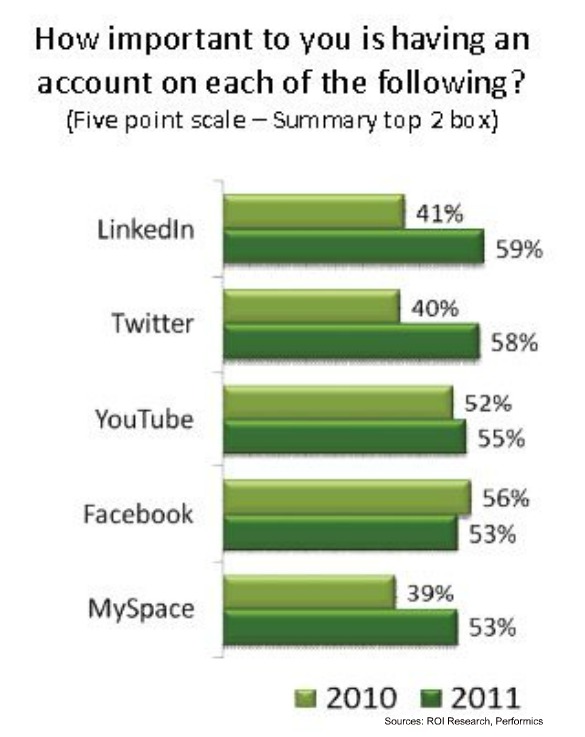 Twitter and YouTube also beat Facebook.Twitter (58%) and YouTube (55%) also had a higher percentage of online consumers ranking them as important.
In 2010, only 41% of online consumers gave LinkedIn a four- or five-point importance rating, meaning. Twitter has grown from 40% to 58%.
Meanwhile, the percentage of consumers rating Facebook as important dropped from 56% to 53%.
When it comes to engagement, Facebook is the unquestioned leader. 97% of online consumers visit Facebook at least weekly and 70% visit at least daily. These figures are close to double those of LinkedIn in terms of weekly visitation (50%) 3.5 times higher in terms of daily visitation (20%).
In 2010, 67% of online consumers visited LinkedIn at least weekly, a figure that dropped 25%. Daily visits dropped 10%, from 22% to 20%.
Facebook continued its momentum as it amassed millions of new users and people spent more time on the site during 2010, according to a February 2011 white paper from comScore. "The 2010 US Digital Year in Review" indicates that Facebook accounted for 10% of US page views in 2010, while three out of every 10 US Internet sessions included a visit to the site.
Law Firm Marketing Takeaways
If you are a lawyer, you need to create a LinkedIn profile immediately. Stop reading this and do it now. 1,475,000 lawyers have a Linkedin Profile.
Twitter is becoming surprisingly important. I recommend that lawyers hire somebody to manage their Tweets and use it to monitor what's being said about their law firm and its clients.
It can't hurt to have a Facebook business page (note: people have profiles, businesses have pages.) People love to visit Facebook and if you offer useful information, you can make that visit important to them.