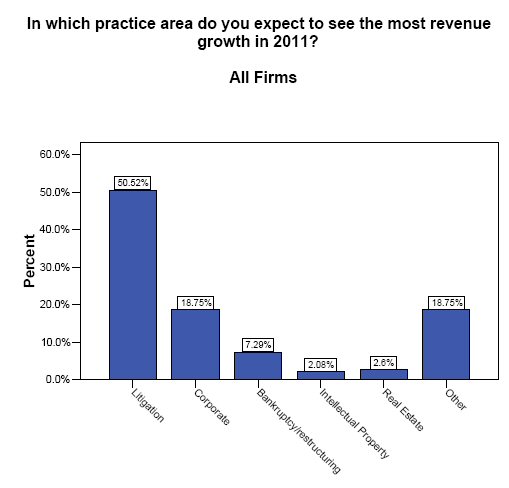 78% of lawyers in firms of all sizes are optimistic about the financial prospects for their law firm, according to ALM Legal Intelligence's Survey of Law Firm Economics, and 50% expect their litigation practices to grow.
U.S. law firms saw their revenues, expenses and income per lawyer increase in 2010, the first time this has occurred since 2007. The survey, conducted by ALM Legal Intelligence in association with The National Law Journal, is available online now at www.almlegalintelligence.com.
Nationally, revenue per lawyer at U.S. law firms increased 9.5% last year (from $412,220 to $451,449), expense per lawyer increased 6.1% (from $159,521 to $169,288) and income per lawyer increased 11.7% (from $252,679 to $282,161). The picture, however, is less positive for midsize firms (9 to 75 attorneys) than at small firms (2 to 8 attorneys) and large ones (more than 76 attorneys). Last year, average gross receipts and income per lawyer grew by an average of 14% for small and large firms, but fell by 2% for midsize firms. The disparity is even greater when comparing gross receipts and income per equity partner (up 19% at small and large firms, and down 5% at midsize firms).
"This year's survey illustrates that small and large U.S. law firms saw their profits recover in 2010, but perhaps not as quickly as they hoped and certainly have not returned to pre-recession levels," said Nigel Holloway, Vice President of Research at ALM Legal Intelligence. "Midsize firms are still feeling the pinch."
According to Holloway, other noteworthy findings included the following:
• Billable hours inched up, but have not returned to mid-2000 levels. Hourly rate increases were reported by small and large firms, but midsize firms have either not changed their rates or have lowered them slightly (-3%).
• Firms are moving away from the billable hour. Some 95% of firms have reported billing via an arrangement not based solely on hourly rates. The majority (62%) have used alternative fee arrangements (AFAs) for up to 10% of their billings and the largest law firms in the survey (more than 150 attorneys) have used AFAs for between 11% and 25% of their total billing.
• Compensation returned to levels that exceeded 2007 compensation amounts for the most senior partners and associates. For instance, median total compensation for 25-29th year Partners increased 8.2% from $322,813 to $349,300. Interestingly, for the fourth year in a row, average starting salaries for new graduates remained unchanged at $85,000. The biggest jump in total compensation for both partners and associates was seen at the largest law firms (150 or more attorneys).
• Staffing continued to be an issue in 2010, with U.S. law firms reporting some of the lowest staffing ratios since the Survey of Law Firm Economics started trending the data in 1985. Ratios were about 70 associates to 100 partners in the early 2000s. After a 1.8% decrease in 2010, they're now down to just 55 to 100.
First published in 1972, the Survey of Law Firm Economics is one of the most complete, accurate and up-to-date set of economic statistics and financial data available about the legal profession. This year's survey contains information about 12,952 lawyers including 4,535 associates, 7,306 partners/shareholders (equity and non-equity), 772 active counsels, and 339 staff lawyers working in 202 U.S. law firms. Data is presented nationally and by firm size, geographic location, practice area specialty, population area size, gender, year admitted to the bar, and years of experience.