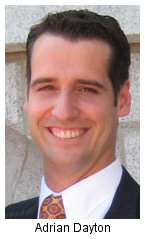 We know the statistics: 750 million people on Facebook, 300 million people on Twitter and 120 million people on LinkedIn. Social media is like ringing the medieval church bell in the town square, which tolled when there was an important event.
That's according to Adrian Dayton, Esq., the keynote speaker at today's LMA Legal Marketing Technology Conference West in San Francisco, which has attracted 180 attendees and features 30 speakers. Adrian is a columnist for the National Law Journal, a blogger, and a social media trainer.
Social media helps move a prospect through the marketing funnel and come out as a client. There are three forms of rhetoric: logos (logical arguments), ethos (a show of authority), pathos (emotion). Pathos is the most difficult -- how do we show that a lawyer is likable, engaging and trustworthy? Social media can accomplish that.
Your online bio (on Twitter or LinkedIn) is your new "elevator speech." A bad one is "Partner at ABC law firm." A good one is: "Partner in the AmLaw 100 firm of Dorsey & Whitney, Watergate prosecutor, complex litigation for Fortune 100, cycling daily around Central Park."
Pathos comes from what we say and how people perceive us: 53% derives from facial expression, 38% is tone of voice and 7% is words. Pathos is most important because it taps into emotion, and purchasing decisions are based on emotion.
"Video is one of the most overlooked things in our marketing tool belt," he said. Video is an effective way to connect with people. Womble Carlyle has 70 videos showing lawyers not as talking heads, but as real people. Allen Matkins has 50 videos. "Video is very powerful."
Law firms need to create a culture of blogging. "Nobody wants to be sold to but everyone wants free information," he said. The best way to generate meaningful traffic is to write a blog -- which produces visitors at 3 to 10 cents per impression, compared with pay-per-click visitors that cost $9 per impression.
Dayton recounted success stories with social media, including an associate who aggressively used LinkedIn and brought in his first client within six months. A young partner at another firm writes the Chicago IP Litigation Blog, following IP trials in his jurisdiction, and brought in a major IP trial that came in through a cold call from his blog. "He was getting the attention because he was able to show his passion for his topic," Dayton said. Another lawyer started his own firm and wrote about criminal law on his blog; he forwarded an article to executives in a crime story he had been following, and one of them retained him to handle his defense.
The social media event that changed his life was a tweet he answered in 2009, "Does anybody know a contracts lawyer?" It turned into his first new client.
He concluded with this "free hugs" video from YouTube. It's a great story - watch it to the end. It shows how a human connection starts, is reinforced and spreads. "If you connect with people, social media will work in your law firm."