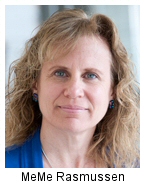 "If there is a discrete issue on my area of law, and I know a law firm has a two-minute video about it, that would be fabulous. It will also get the face of your partners out there," said Renee Lawson, Associate GC of Zynga, Inc., a video game company in San Francisco. Her company has a dozen lawyers in-house.
She spoke on a panel discussion with other GCs on the topic of using technology in legal marketing at the LMA Legal Marketing Tech Conference West in San Francisco.
"I don't want anything on paper. I don't have an in box; if I did everything in it would go into trash. I want something that will catch my eye in 30 seconds or less, certainly not a long block of text. I'm more likely to look at a video," said MeMe Rasmussen, VP and Chief Privacy officer, Adobe Systems Inc., which has 50 lawyers in-house. " If your lawyers are presenting CLE, put it on a video. If I see it I'm much more likely to hire your firm,"
"I am inundated with newsletters. If I get one or two good ideas from a law firm newsletter or learn something that I can use in my practice, it's worth getting all the other ones I can't use," Robert A. Shives, Jr., Associate General Counsel, Fujitsu America, Inc.
Rasmussen was more skeptical. "I delete 5-10 email newsletters from law firms every day who know who I am, yet they are sending me newsletters about bankruptcy and SEC. I'm the Chief Privacy Officer."
Lawson added, "When you're in Silicon Valley there are basic things I expect a lawyer to know. If you're trying to target technology firm, you should educate your lawyers about technology so they understand it."