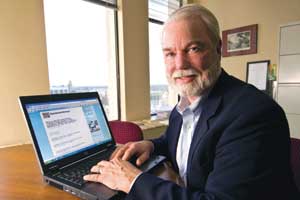 My friend Russell Lawson, the brilliant Marketing Director of Sands Anderson in North Carolina and Virginia, has developed an excellent list of tips for his firm's lawyer-bloggers. He is generous enough to share them with the readers of the LawMarketing Blog:
Post on a regular schedule. Consistent posting is what drives readers to return to blogs. Blogs should not go dormant for more than two weeks at a time. Posting first thing in the morning is a good general rule of thumb. Authors should avoid posting on historically low traffic days like Mondays, Fridays, weekends and holidays.

Pay special attention to writing headlines. Headlines can be catchy but must be clear. They should grab the reader's attention in ten words or less. Use active verbs, and include keywords in the title of the post and the first paragraph of the post.

Grab readers' attention immeditaely. The first paragraph of every post should be your strongest paragraph. Keep blog posts at 800 words or less.

Invite guests to post. This a great way to freshen content and drive new readers to your blog.

Show some personality. Let your personality and interests come through in your writing. People are drawn to the personality behind the blog.

Consider writing short question-and-answer topical posts. These could cover a common question the author is hearing from clients and what the general answer is (with a disclaimer that one should seek counsel on all legal matters).

Write "tips" and "lists" posts. Numbered articles historically drive traffic. List posts also work very well when you ask your readers to add to the list in the comments (and you purposefully leave the list incomplete).

Link to other blogs sharing interesting content. If you read an article that is particularly thought-provoking, write a response to the article and detail your opinion. Link to the original article. Authors will likely repay the favor.

Consider blogging live at conferences or relevant industry events. This is a great way to gain new readership.

Ask questions. At the end of a post, elicit more comments by asking a direct question, i.e., "Do you agree?" or asking open-ended questions, such as, "Have you experienced this before and what happened?"
Secrets of Blogging Superstars
Respond to comments within 24 hours. That way, you are showing your readers that you value their feedback and encourage dialogue.

Encourage colleagues and friends to comment. If readers come to the blog and see that there are already a few comments, they will get the sense that there is a dialogue/ conversation going on and will be more inclined to take part.

Regularly comment on blogs and forums in your niche. Be sure that you provide thoughtful (non-promotional) comments, not just, "Great post" or something similar.

Thank those who link to you. Once you realize that your blog has been mentioned in another article, immediately find the mention and comment to thank them for linking to your blog. If possible, reciprocate by linking to some of their content in a future post.

Develop a blog roll. All blogs should include a blog roll (that is regularly updated) where the author links to blogs in their same niche. This helps encourage cross-linking.

Share the link love. Link to other bloggers' information in your blog posts and use "hat tips" or quotes to attribute accurately.