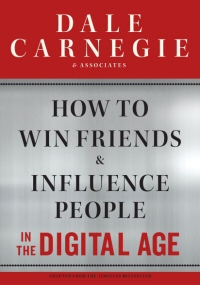 I read the 75-year old book "How to Win Friends and Influence People" when I was in junior high, and it changed my life. I tried to adopt every recommendation Dale Carnegie made -- be a good listener, admit mistakes promptly and smile more often. His book is where lawyers should start when building their own clientele.
The new version How to Win Friends and Influence People in the Digital Age is written in corporate-speak with none of Carnegie's original charm -- but a book like this is definitely needed in the age of Facebook and Twitter.
The problem with e-mail and texting is that you can't see the other person, and thus can't apply the in-person techniques that Carnegie prescribed. But there are workarounds:
Take note of your friend's postings on Facebook and leave a comment.
Thank people for re-tweeting your messages.
Don't be a troll and attack or criticize people in public discussion forums.
Take an interest in others' interests.
Appeal to people's noble motives.
Ask questions instead of giving direct orders.
"Digital communications have made it possible to reach more people in faster and cheaper ways," the book quotes Guy Kawasaki saying. "You could make the case that technology has made it possible to blow one's reputation faster and easier than ever."
That's why this is the right book at the right time.