There's been lots of chatter that Google dropped the ball with its new Plus social network. There was the story that Google management wasn't using it. There was a 60% drop in use after a 1200% surge in users after opening up to the public in mid-September.
Even my esteemed friend, social media maven Nancy Myrland, mused, "Google let too much time slip by, perhaps missing a window that stayed open for several weeks. Enthusiasm from potential users was diminished...because people are very busy, and somewhat overwhelmed with the other tools they are still using and learning."
Then c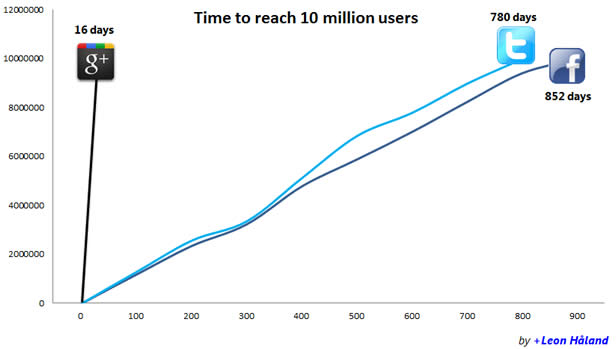 ame Google's earnings report stating that Google+ is up to 40 million members. Well shut my mouth. That's a monster increase. It appears that people do have the bandwidth for a new social network. I personally made room in my life for Google+ by deleting my Facebook page. It was a complete waste of time.
I like Google+ because it's easy to post an update, my stream is tidily narrowed down to the 54 people I want to follow, and 269 people follow me. It's got a good signal to noise ratio. Check me out in Google+.
Each post has more information than Twitter. I've met interesting people I haven't encountered before. You don't need an invitation to join any more. Kevin O'Keefe uses it. What's not to like?
I mean, look what happened when a notorious dictator learned about Google+.