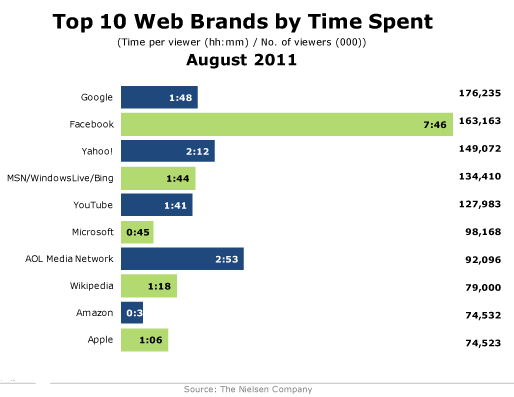 The average Facebook user spent 7 hours and 45 minutes on the site during August 2011 according to The Nielsen Company.
It's a marketing gold nugget to know just how closely people attend to Facebook -- because where there are users, there are consumer clients. Facebook beat out AOL, the second-place website, whose users averaged only 2 hours and 52 minutes per month -- less than half of the time spent on Facebook.
In other news, Google got more visitors (as distinct from time spent) than any other website, with 176 million unique US visitors. Overall a stunning 215 million Americans were active on the Internet in August 2011. On average, Americans spent more than 30 hours online in August and visited 99 unique domains, according to Nielsen. Accordingly, optimizing your law firm website to be found in Google is a top-priority marketing function. Click the link to download 10 Internet Marketing Tips.
Importantly, the number of Americans viewing online video is growing. According to comScore, a total of 180 million Americans viewed online video content in August, marking the second straight month of growth. Americans logged about 6.9 billion online video viewing sessions in August, tying the all-time record set earlier this year.
I believe video is the future of law firm marketing. The key to winning new business is for a lawyer to be someone a client knows, trusts and likes. Video accomplishes all three.