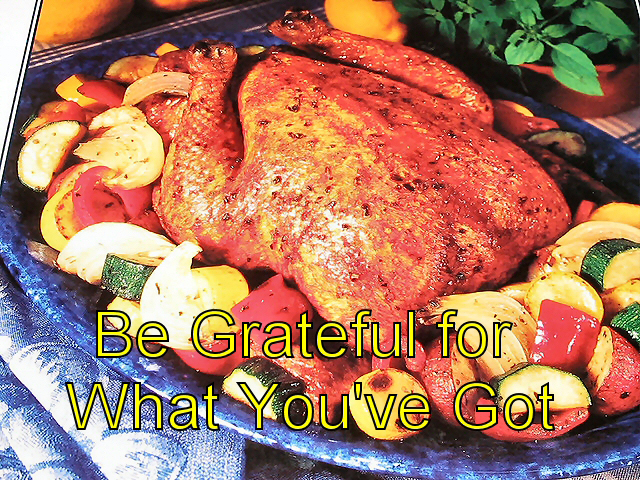 I find myself in a grateful place at this time of year. This is true even though it's been a year of double hand surgery, scrimping to pay off debt and a wrenching death in the family. On a public level it's been a another year of a bad economy, a government that can't do anything and prices going up everywhere. The evening news is horrifying because it's all about murder in the streets.

But then I think -- right here and right now -- everything is OK. Sure, my life could collapse in a shambles tomorrow. And my life is far from perfect today. But the Higher Power has been incredibly kind to me by giving me good work that I enjoy, a warm home with people and pets I love, and four days of free time this weekend.
Rather than focus on what I don't have or how things could be even worse, this Thanksgiving I'm going to focus on gratitude. I found a wonderful blog entry by Kevin Eikenberry on The Power of Gratitude, which outlines five ways that gratitude makes our lives better:
Gratitude attracts what we want. The universal law of attraction says that we will attract into our life the things we think about and focus on. Since this is true, wouldn't you want more of what you are thankful for?
Gratitude improves relationships. Express gratitude for people, their contributions, their talents and their actions - and make sure you let them know how you feel.
Gratitude reduces negativity. One of the fastest ways to improve your mood or outlook is to count your blessings.
Gratitude improves problem solving skills. We typically look at a problem by focusing on what is wrong, the barriers in our way and how we can fix it. Conversely, when we think about what we are grateful for we open our minds up to new possibilities and connections.
Gratitude helps us learn. Being grateful for our situation - even if we don't like everything about it - allows us to be thankful for the opportunity to learn something new.
Thanks Kevin, I'm grateful for your blog entry.