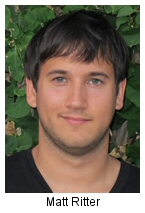 Imagine a law firm where:
A supervisor like a drill sergeant calls associates "little maggots" and bellows, "no cells phones, no Internet, no chit-chat and no eye contact" during work.
Jaime, the cute blond associate who sings in the bathroom, walks out and meets a male associate with his zipper down. He can explain.
Nick, an associate up to his eyeballs in files, meets weeping colleagues in the hallway who have been laid off. In his own review he's searched for weapons because a fellow associate called security on him for joking that he wanted to kill the managing partner.
Red-headed associate Tim says, "Yep, obviously I'm Irish. Does that mean I have to drink excessively and have heated arguments with my girlfriend over trivial matters? Yes I do."
It's from The Bottom Rung, an online web show that is a humorous take on document review hell. Created by lawyer and comedian Matt Ritter, the show brings the dysfunction of the TV show "The Office" to a law firm where second-tier lawyers toil in a basement. Episode One and Two are online now and they cracked me up.
"I created The Bottom Rung out of my own experience doing document review in Los Angeles," says creator Ritter. "Until I moved out to LA in 2010, I worked as a big firm corporate associate in New York and had never heard of document review. A former lawyer and TV writer told me that if I was short on cash, document review was an easy way to earn a stress-free paycheck, allowing me to focus on my comedy work."
The reality was nightmare bosses, no windows, no ventilation, no personal space, sick people everywhere and no running water. "During the entire season I am highlighting the doc review characters and the world of some of these darker document review projects. It's all loosely based on the places I've been assigned and the people that I've met on some of the more hellish projects," he says.
Check out Episode One below.