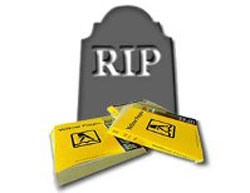 A California appeals court has reinstated a jury's $17.35 million damage award to more than 100,000 businesses and individuals who took out ads in Pacific Bell phone books that were delivered either late or not at all.
The Yellow Pages advertisers' money was wasted.
Jurors awarded damages to advertisers in 66 of Pacific Bell's 163 directory service areas in the state, including the cities of San Francisco and Los Angeles, finding that the company had failed to use its "best efforts" to deliver the books as promised. In most cases, those were districts in which fewer than 94.5 percent of the directories arrived on time.
A Superior Court judge had overturned the verdict in June 2009 and dismissed the suit. But the First District Court of Appeal in San Francisco overruled the judge on Tuesday and restored the verdict. The court said the advertisers had relied on a delivery verification survey by Pacific Bell's contractor, the nonprofit Certified Audit of Circulations, which offered the only data available.
The jury found that the plaintiffs "paid for advertising distribution services they did not receive," the court said, and they are entitled to compensation even if "precise proof of the amount of damage is not available."
The evidence, including admissions by phone company distribution managers, showed "ongoing, severe problems in delivering directories," said Presiding Justice Ignazio Ruvolo in the 3-0 ruling.
The suit was a class action on behalf of 380,000 advertisers in the yellow pages in California between 2002 and 2004. Plaintiffs' lawyer Michael Schrag said somewhere between 100,000 and 200,000 would be eligible for damages in districts where the jury found inadequate deliveries.
If you haven't canceled your yellow pages ads yet, now is the time to do so.