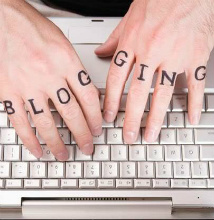 If you attack someone on your blog -- and post defamatory falsehoods against a private individual -- you will not be considered a journalist and you will be held responsible. It happened to a blogger who unleashed a series of unfounded personal attacks -- and it can happen to you.
Many states have special shield laws reserved for journalists, but a court in Oregon ruled that a self-styled "investigative blogger" didn't fit the definition and had to pay for wrecking her victim's reputation.
Here's an excerpt from the Lawyers.com blog, which I edit:
"It didn't take long for the court to decide against the blogger on the defamation claim over her argument that she was protected by the First Amendment. There was no proof her statements were true, and applying long-standing Supreme Court principles, the court ruled that her victim was not a public figures and the blog statements were not matters of public concern.
Why the Fuss?
This case is cutting-edge, because the judge ruled, point-blank, that Cox was not a "journalist" entitled to special protection under a state shield law. In defending the lawsuit, Cox argued that she got her information from a confidential "inside" source and, under Oregon's shield law, she wasn't required to divulge that source's name. She also claimed that her victim couldn't recover damages for defamation because he never requested a retraction from the blogger as required by Oregon's retraction law.
The judge didn't buy it. In his rulings (PDF), he found that Cox was not a "journalist" within the meaning of Oregon's laws and so she wasn't entitled to the protections of those laws. A litany of "media" sources are listed as covered by the laws, such as newspapers, magazines, television stations and news services. As a blogger with no affiliation to any of these types of media, Cox was not a "journalist." In fact, the judge noted, she had no educational background in journalism, no connection to a known news outlet and offered no proof that she followed standard journalistic rules, such as fact-checking.
For the full story, read Lying Blogger Must Pay $2.5 Mil for Defamation on Lawyers.com.