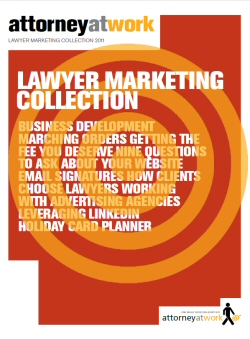 Lawyers frequently ask me to recommend a marketing book to help grow their practices. There is a rich variety of good reading to be found in the ABA Web Store and the LawMarketing Store. If you'd like one publication that covers most of what you need to know in 27 pages, I recommend AttorneyAtWork's Lawyer Marketing Collection 2011. It's a free download.
This collection of the top marketing articles from the past 12 months from AttorneyAtWork includes "Six Steps to Single-Minded Marketing" by Merrilyn Astin Tarlton, "Nine Questions to Ask About Your Law Firm's Website" by Deborah McMurray and my article "How Clients Choose Lawyers."
Other writers include leading lights such as Jordan Furlong, Theda Snyder, Ken Hardison, Bob Denney, Kristina Jaramillo, Keith Wewe and Elizabeth Butcher.
Their topics include:
Demographic Business Development
Feature versus Benefit
Get the Most from Your Law Firm's Ad Agency
Getting the Fee You Deserve
New Lawyers: Your Business Development Marching Orders
Nine Ways to Leverage LinkedIn
Email Signatures: Valuable Real Estate
Law Firm Holiday Car Planner
Many thanks to Merrilyn Astin Tarlton and Joan Feldman for putting the Lawyer Marketing Collection 2011 together.