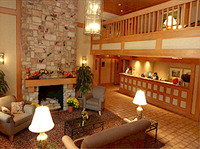 In my decades of business travel, I've stayed at the finest hotels in the country. I got a massage at the Ritz Carlton beach resort in Naples, Florida. I admired the Frank Lloyd Wright influence at the Arizona Biltmore in Phoenix. I enjoyed the marble, style and comfort of the Metropolitan Club on Central Park in Manhattan.
But today I'm at at the homely and humble Best Western in New Providence, New Jersey, where they make you feel at home. There's hot scrambled eggs and bacon in the morning, free wi-fi and people at the desk who remember you're staying there. Plus it's two blocks from the office.
Whoever runs this place is a marketing savant. He's so good, he doesn't even know he's doing it. Every room at this hotel comes with an anonymous prayer for you.
Here's what it says:
TO OUR GUESTS

In ancient times there was a prayer for "The stranger within our gates."

Because this hotel is a human institution to serve people, and not solely a money making organization, we hope that God will grant you peace and rest while yo are under our roof.

May this room and hotel be your "second" home. May those you love be near you in thoughts and dreams. Even though we may not get to know you, we hope that you will be as comfortable and happy as if you were in your own house.

May the business that brought you our way prosper. May every call you make and every message you receive add to your joy. When you leave, may your journey be safe.

We are all travelers. From "birth till death" we travel between the eternities. May these days be pleasant for you, profitable for society, helpful for those you meet, and a joy to those who know and love you best.

--Anonymous
Marketing Takeaway: a demonstration that you really care is a much better marketing technique than all the glitz and glamor that money can buy.