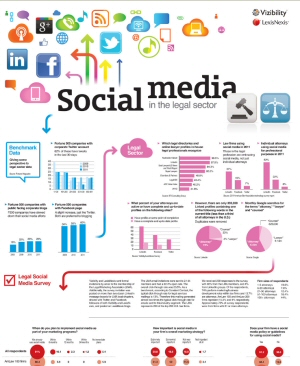 Vizibility Inc. and LexisNexis announced the results of a survey conducted to shed light on the use of social media in legal services marketing. To illustrate the findings, the results have been released as an infographic (see below).
The research suggests a high degree of reliance on broadly defined social media marketing programs, with 81% of survey participants reporting they already use social media marketing tools and another 10.1% saying they plan to deploy social media marketing elements within six months. Furthermore, reliance on social media tools and how they're measured differ significantly by firm size.
The survey found that a clear majority of participants consider social media an important part of their overall marketing strategy, with nearly half (48.5%) reporting that social media is "somewhat important" while another 31% believe the tools are "extremely important" to their total marketing efforts. A minority, 5% of responding firms, report not using social media.
You have to measure the results from social media to justify it. Our new data reveals a split between small and large firms in social media marketing objectives. For example:
Among small firms, almost 71% of participants in practices with five or fewer attorneys said that they rely on social media marketing to generate new business.
In contrast, among respondents from big firms with 100 or more attorneys, only 37% measure social media success this way.
Large firms better get smart about social media if they expect social media marketing to produce new work.

Actual social media use among lawyers, however, could be overstated. This survey, as well the 2011 American Bar Association (ABA) Technology Survey Report, both recorded that 63.5% and 62% (respectively) of individual attorneys say they have LinkedIn® profiles. A search on LinkedIn, however, reveals only 393,338 U.S. profiles with the keywords "attorney," "counsel" or "lawyer" in the current job title. This is less than one-third of all U.S. attorneys and half the rate of usage as reported by the participants of these two surveys when extrapolated across the 1.2 million attorneys in the United States.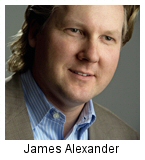 "Of the respondents to our survey who reported that their attorneys had LinkedIn profiles, less than 20% said they were completely up-to-date," said Vizibility founder and Chief Executive Officer James Alexander. "In the face of a recent BTI Consulting Group survey which found that one in two legal decision makers are less likely to hire an attorney if their credentials could not be verified online, this discrepancy exposes an immediate action item for lawyers and legal marketers."
The new research also reveals basic search engine optimization best practices for social media are not being followed. For instance, in the United States only 4% of legal titles on LinkedIn profiles contain the word 'Lawyer,' as compared to 23% with the word 'Counsel' and 73% with 'Attorney.' Yet, of the average monthly Google searches for these three keywords, 38.8% contain the word 'lawyer', 3.5% contain 'counsel' and 57.7% contain 'attorney'. To ensure placement in search results, marketers need to ensure that professional profiles contain the keywords being used by the buyers of their services.
For a copy of the results, view or download the infographic at http://infographics.vizibility.com.