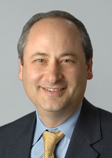 Adam Stock
To give a real-life feel to the problem-solving exercise in our workshop at the
Marketing Partner Forum
, we asked the attendees to solve three separate problems, and to present their solutions before a video camera -- as if they were addressing the managing partner of their law firm.
The topic of the workshop was "Social Media to Drive Business." At the start of the workshop, my colleagues Adam Stock, Jasmine Trillos-Decarie, Steve Fisher and I showed how law firms are actually generating new clients with social media marketing campaigns. Then we broke the attendees into three groups, and assigned each to use what they had learned to devise a social media marketing plan for different kinds of law firms.
YouTube, as you know, is a social medium. To demonstrate how easy it is to record and upload a video, we recorded the presentations of our brave participants Nicole Ames and Susan Green. Remember, our speakers were working with no teleprompter, minimum preparation time and no studio lighting.
Adam Stock, the CMO of Allen Matkins in San Francisco and a Zen Master of video editing, transferred the videos to his Mac and turned each presentation into a gem. Completing his work in 12 hours, he next uploaded them to the Lawyersdotcom (Lawyers.com) video channel and voila!
Please offer a comment about our team effort.