Register for Thursday's webinar and complete a business development plan like this one for 2012. It shows you how to increase your revenue by $100,000 in 12 months.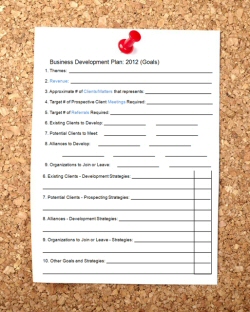 These are my favorite tips that I recommend you include in your
business development plan
in the coming year:
Don't Pitch People. No one likes to be sold to, so don't waste time telling people where you went to law school or about the breadth of your law firm. A business development conversation is an interview. The best way to engage potential clients is to ask questions. Leave the brochures, bios and newsletters back at the office. Instead, be prepared with three or four good questions to ask about the potential client's business. You will distinguish yourself by the questions that you ask.
Make time. "I don't have time for marketing" is the most common cop-out we lawyers give for not developing new business. So is "I have real work to do." I don't believe these excuses because lawyers do have time. The trick is to weave business development into the activities you are already doing. If you plan to stop at Starbucks in the morning, call a referral source and offer to buy him a latte and meet you. Reserve one day a week to go out to lunch with an existing or potential client. You won't develop any new files eating lunch alone at your desk. And once a month, attend a trade association meeting -- not a bar associating meeting -- but a meeting of business people.
Get face time with clients. The best way to strengthen relationships with clients and get referrals from them is to call on them. Go to their premises and meet them in person. To alleviate any concern that a client might thing you have nothing better to do with your time, explain that it is your policy to visit all clients. Say that you need to see the factory or the offices to better understand their business needs and to better serve them.
Ask and you shall receive. Don't hesitate to ask clients for referrals. There are two magic moments to ask for a referral: at the initial client interview and at the end of the matter. In the first interview, ask clients if they will mention your name to friends and colleagues if they are satisfied with your work. And in the post-victory glow after a matter concludes, remind the client to share your name along with the good news.
Be a joiner. My Dad taught me this. Join a civic group or trade association because it is a great way to generate new business. But don't go to the meeting just to warm a chair and listen to the speaker. Pick a meeting where you can make a difference and get involved by joining a committee, writing for the newsletter or offering to speak. Attend every meeting and become a regular. The new clients will start to flow.
Here's wishing you a prosperous 2012. To learn more, I recommend you attend Create a Business Development Plan that Results in a Prosperous 2012, a live webinar presented by business development specialist David Ackert and me this Thursday, January 12, 2012: 10 am Pacific ♦ 11 am Mountain ♦ Noon Central ♦ 1 pm Eastern.