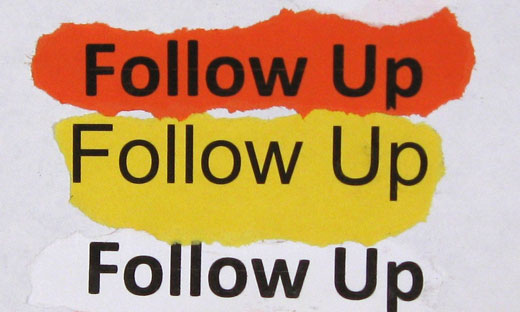 Check out my latest post on The Lawyerist blog:
There is a critical step in the marketing and business development process that I have seen many lawyers miss, time and time again. Lawyers have spent countless hours and hundreds of dollars pursuing potential clients, but they left money on the table because of this omission. It may seem obvious when you read it, but the missing step is following up.
We lawyers are actually not bad at marketing, raising their profiles and making potential clients aware of us. Where we fall down is taking the next step. It is unrealistic to expect a potential client to take the initiative and call us with a file. Rather, the onus is on us to follow up—after all, the lawyer is the one who wants the business and thus has the obligation to make the next contact.
Why Follow-Up Matters
The reason that follow-up is so important is because that is where all the revenue is. It is not found in the introductory event, pitch or handshake. The money will be in one of several follow-up steps in which a lawyer determines the legal needs of the other person and methodically builds a relationship. Bear in mind it takes 7 "touches" to establish a relationship. With online touches that number increases to 7-16 times.
Smart lawyers won't undertake any marketing initiative without planning in advance how they will follow up.
To read the rest of the post please visit The Lawyerist at http://bit.ly/A1nIfk