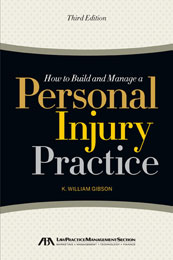 There is a treasure trove of marketing advice for lawyers in small firms in the ABA's new book, How to Build and Manage a Personal Injury Practice by K. William Gibson.
Go directly to Chapter 5 to read 40 pages of personal business development tips, including:
Don't waste your money on the Yellow Pages or TV ads. Consumers are going online to find lawyers.
Don't let your website be an online brochure. Use FAQ pages to answer questions of visitors.
Blogs are great way to generate publicity. Reporters and editors search lawyer blogs for people to interview.
Use social media to become well known. LinkedIn attracts business clients, Facebook attracts consumers, Twitter is good for following other lawyers, and YouTube is the land of lawyer promotion.
Gibson offers ways that lawyers can differentiate themselves, by the kinds of cases they handle, a convenient location, an emphasis on service (e.g. house calls and evening appointments), and ability to speak a second language.
He recommends the "retro" technique of using postal mail to market yourself. A letter really stands out now that most marketing is online. In any event, lawyers should get smart about search engine optimization, and be familiar with creating title tags, meta tags, and simple URLs.
The very best cases will come from family members and personal friends, Gibson says. "If your friends do not know what you do for a living, you are missing some great referral opportunities," he writes.
The book is 193 pages with a CD. Published by the ABA Law Practice Management Section, it sells for $69.