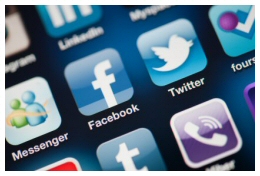 The era of the Luddite lawyer is over. Solos and GPs in firms of one to five lawyers are embracing social media wholeheartedly, according to new research – even more than our colleagues in large law firms.
Joining the crowds online, lawyers in small firms are actively sending updates, tweets and blog entries to promote their practices. In fact 91% of lawyers in small firms (one to five lawyers) plan to implement social media as part of their marketing programs, according to research by Vizibility Inc. and LexisNexis. This is a higher percentage than law firms in general, of which 81% report plan to use social media marketing tools.
When asked how important social media is in their firm's overall marketing strategy, 59% of lawyers in small firms said it was extremely important. Respondents in small firms in the Vizibility/LexisNexis survey said they use the following social media channels:
90% use professional social networks like LinkedIn and MyLegal.com
88% write blogs
73% use Twitter
68% use consumer social networks like Facebook and Google+.
51% use video networks like YouTube and Vimeo.
Only 19% use social question-and-answer sites like Wikipedia, Quora and Yahoo Answers.
For the rest of my blog entry please visit the LexisNexis Law Firm Marketing Center.