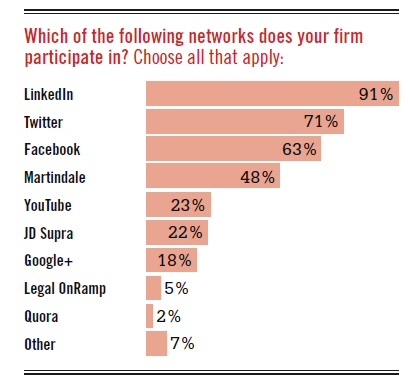 I reported that 81% of Large Law Firms Use Social Media for Marketing last December. Vizibility Inc. and LexisNexis surveyed law firms and found that a clear majority of participants consider social media an important part of their overall marketing strategy.
These findings are confirmed in new research released by ALM Legal Intelligence, "Fans, Followers and Connections - Social Media ROI for Law Firms," which sells for $499. It shows that many law firms have found new business with social media. Here are the key findings:
NEARLY HALF of respondents reported that blogging and social networking initiatives had helped produce leads for new matters or clients. And approximately 40 percent said that those efforts had helped them to land new work.
MORE THAN 40 PERCENT of those surveyed said that blogs and social media networks have helped to increase the number of calls their firms receive from reporters in traditional and new media. Likewise, roughly the same number said their presence in the blogosphere and on social media networks had also increased the number of speaking invitations their lawyers receive.
ALMOST 85 PERCENT of law firms who responded to the survey reported that their lawyers make use of social media and networking tools such as the professional networking site LinkedIn, as well as Facebook and Twitter. Also, 70 percent said that their firms now maintain one or more blogs.
NEARLY 90 PERCENT of respondents said that they believe that the integration of social media into their firms' marketing, business development, and recruiting efforts is an important priority.
MORE THAN HALF of respondents said that their firms plan to increase their budget for social media initiatives (such as training staff and improving their Web sites) in 2012. Just over 20 percent said their firms already have a full-time social media specialist on staff, and only 2 percent planned to hire one in the coming year.
The report is based on an online survey of 179 legal professionals, a majority of whom worked at firms with 150 to 1000+ lawyers.