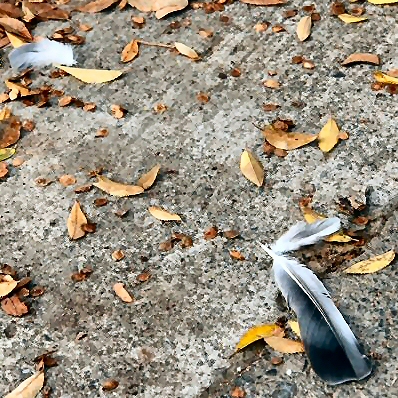 I knew something was wrong when I saw the feathers on the ground. For the last several years, a mourning dove has occupied a nest under an eave by our front window. My wife and I enjoyed watching the cute mama bird produce two to three broods every spring. Something must have gotten her.
My wife picked up the feathers, which were strewn everywhere like leaves. We felt the pang of sadness in our hearts for the little bird we called Dovie. We loved checking in on her and watching her sit higher and higher in the nest as her hatchlings grew bigger underneath her. Dovie regularly produced two chicks who would appear on the ground and huddle as they got their bearings.
The nest was too high up for snakes or coyotes to reach her. I got up on a stepstool to look into Dovie's nest, and to my heartbreak there were two eggs in there. I left them alone. We speculated that the Cooper's hawk who lived in the neighborhood had found her. When we weren't looking the hawk must have snatched Dovie and taken her away.
We took little comfort that she was killed according to the laws of nature. Predators must eat too and a flock of doves is a good hunting ground. As a prey animal, poor little Dovie had no talons to fight back with. She had to keep out of sight while she looked for food, and then sat vulnerably on the nest.
After two days I decided to look into the nest again. To my surprise, a dove was sitting on the nest with the bird's pop-eyed motionless expression. She looked like Dovie but mourning doves all look alike. Was it one of Dovie's daughters? Will the circle be unbroken? I checked again a few days later and to my delight found two fuzzy, sleeping chicks in the nest (see below).
I marveled at the persistence of the species. The slender, hooting birds have no defenses but their species endures. Not only that, a flock of doves is thriving abundantly around us. If one of their number fell, another immediately stepped in to fill the void.
The meek shall indeed inherit the earth.