It takes time to develop relationships that lead to sales. A large percentage of marketers who take the time find great results. For example, 58% of marketers who have been using social media for more than 3 years report it has helped them improve sales, according to the 2012 Social Media Marketing Industry Report just published by the Social Media Examiner.
Among marketers overall, including those with less experience, 40% saw improved sales in 2012 (see chart below).
But the survey of 3,800 marketers found that the chief benefits of social media marketing are soft metrics: generating more business exposure (reported 85% of marketers), followed by increasing traffic (69%) and providing marketplace insight (65%). These provide weak reasons for a skeptical managing partner considering social media marketing.
Marketers do appear to be getting more leads. The report says that that the proportion of marketers citing lead generation as a social media marketing benefit has risen 7% year-over-year to 58% of respondents.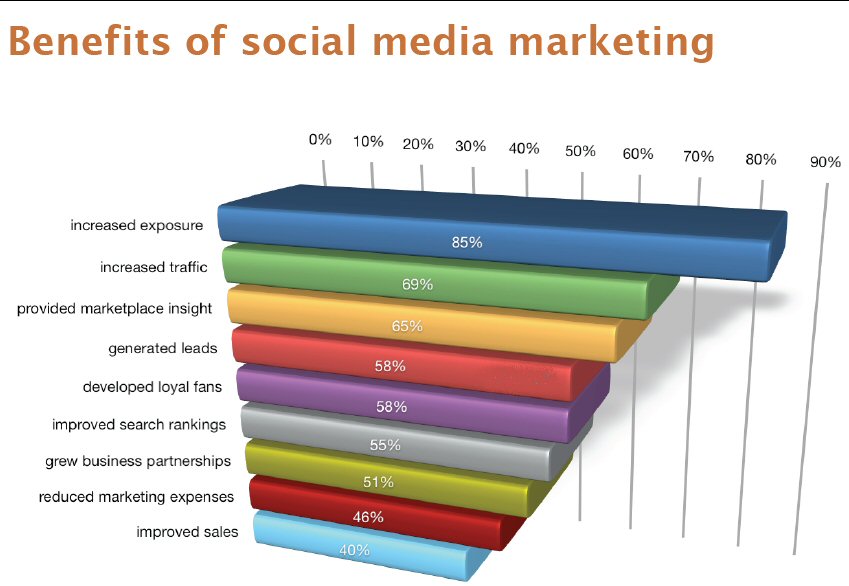 Other findings:
Roughly 3 in 5 marketers are spending at least 6 hours or more on social media marketing per week, with one-third spending more than 10 hours weekly.
Large brands were 10% more likely than small businesses to say that they benefited from increased traffic as a result of their social media marketing efforts (75% vs. 68%).
Business-to-business companies were 15% more likely than business-to-consumer companies to report marketplace intelligence insights from social media (68% vs. 59%).
As for me, because Twitter comes up as my #5 most important source of traffic to this blog, you'll see me tweeting and retweeting.