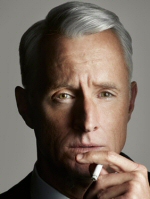 Roger Sterling
There's a priceless moment in AMC-TV's Mad Men when ad agency partner Roger Sterling advises Lane Pryce about how to close the deal with a customer. It's a teriffic lesson for lawyers about selling by asking questions and listening.
Lane is a finance guy and he has no sales experience (like most lawyers). Just before Lane takes the customer out to dinner, he asks Roger's advice as they review an RFP from Jaguar motors and an advertising order form.
"The beauty of this dinner if that if you do it right, you can actually have him tell you all the answers. In fact I once got a guy from Dr. Scholl's to fill it out for me," Roger says.
"There'll be plenty of drinks," Lane worries.
"Not for you. You order a scotch rocks and water. You drink half of it until it turns see-through. You get another," Roger says.
"Very good," Lane says.
"And then, well, then it's kind of like being on a date," Roger says.
"Flattery, I suppose," Lane says.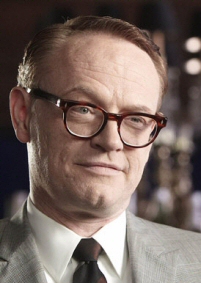 Lane Pryce
"Within reason. But I find it's best to smile and sit there like you've got no place to go, and just let them talk. Somewhere in the middle of the entrée, they'll throw out something revealing. And you want to wait until dessert to pounce on it. You know, let him know you've got the same problem he has, whatever it is. And then you're in a conspiracy. The basis of a 'friendship." Then you whip out the form," Roger says.
"What if I don't have the same problem?" Lane asks.
"It'll probably just be something like he drinks too much, he gambles. I once went on a five-minute tear about how my mother loved my father more than me. And I can assure you that is impossible," Roger says.
"Very good then. And if for some reason he's more reserved?" Lane asks.
"Just reverse it. Feed him your own personal morsel," Roger says.
"Oh I see," Lane says.
"That's it. Get your answers. Be nice to the waiter and don't let him near the check. Oh, and find out everything you can before you get there," Roger says.
"That I've done," Lane says.
"And you still like him?" Roger asks.
"I do."
"Let it show," Roger says.