I met the CEO of Approach the Bench on Twitter and he wrote me about this neat chess set for legal professionals.
---
The chess set began as a gift idea for my father who is an attorney that has been inundated with briefcases, coffee mugs, desktop scales of justice, Vanity Fair lawyer prints and other law-related gifts over the years. Looking for something original and unique yielded no satisfactory results, and as he is an avid chess player, I began to seek out a legal-themed chess set.
Finding nothing to my satisfaction, I decided to produce one myself and the result is a unique gift that can be a impressive showpiece for any lawyer or law firm that is now available to the public. Elegant and austere, "Approach the Bench: The Chess Set for Legal Professionals" makes a great gift for a judge, lawyer or anyone in the legal profession. The iconic courtroom figures (King/Judge, Queen/Blind Justice, Bishops/Attorneys, Knights/Bailiffs, Rooks/Stack of Law Books with a gavel, Pawns/Jurors) the set is uniquely "stepped" to resemble a courtroom.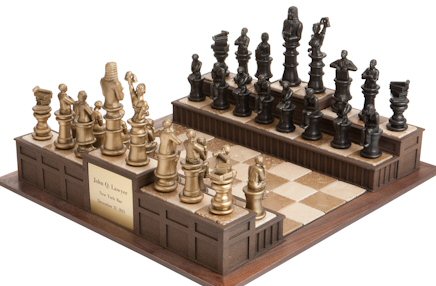 Hand-made in the USA from cold-cast bronze, Travertine tile and walnut, the boards can be personalized with up to two brass plaques engraved with a personalized message to congratulate your favorite lawyer on passing the bar, getting promoted, retiring or as a "Thank You" for hard work.

The sets are a nice addition to a home or office, complementing a waiting room, private study or workspace. Measuring 18x19x5, "Approach the Bench" has been featured in the ABA Holiday Gift Guide, is available in Hammacher Schlemmer and the Supreme Court Gift Store, as well as in For Counsel and other exclusive outlets and online (www.approachthebench.com). The colors of the pieces are black and gold, but can be cast in any type of metal or colored to represent one's alma mater.