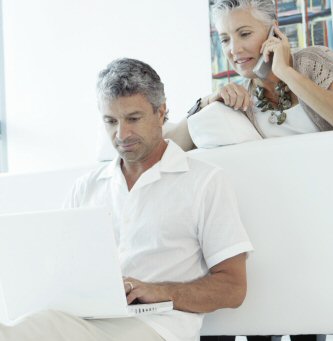 America's 79 million Baby Boomers are going online, making purchases and leaving comments as much as any other generation, according to new research. Born during the 19 years from 1946-1964, this generation makes up 34% of the US population and 33% of the Internet population, according to the Creating Results marketing agency.
Boomers are a hot demographic because they control 67% of the country's wealth and outspend younger generations, according to Immersion Active. They are target clients for lawyers because Boomers need legal advice about contracts, leases, employment law, wills, estate plans, copyright, patent and yes...divorce.
As the infographic below shows, Boomers use search engines, and go online to read news, watch videos, book travel, use social media and get health information.
That said, far more Boomers watch TV every day than use email, and far more of them use email than social networks.
Younger boomers (aged 45-54) are more likely than their elders to use comments on blog posts and articles, but older boomers (aged 55-64) are most likely to post user reviews -- both positive and negative.
Younger boomers make up 32% of the Facebook user base, 24% of the Twitter user base,