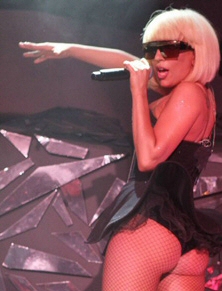 One of Lady Gaga's secrets to success is that her name is short and memorable. I discussed this at my talk "How to Market Your Law Practice Like Lady Gaga" at the Missouri Bar last week. Her real name is Stefani Germanotta, which conveys an image of germs, bratwrust and linguine. Not a good personal brand.
Lady Gaga got her stage name from the Queen song, 'Radio Ga-Ga,' when a music producer compared her singing to that of Freddy Mercury. Lawyers should take note: the name of your law firm is a brand, and unless you're nationally famous, your own name isn't helping to market your practice. If ethics rules permit you to take a trade name, you should change your law firm name to something catchy.
I compiled a list prominent law firms in Missouri. If these firms were to market like Lady Gaga, here is how I would change their names:
Lathrop & Gage – It's already concise, but I can be shortend to LaGa.
Blackwell Sanders Matheny Weary & Lombard – These are a lot of names to say when answering the phone. I recommend BlackSand.
Thompson Coburn – ThomCo.
Armstrong, Teasdale, Schlafly & Davis – Try saying that fast four times. An alternative is ArmTea.
Husch & Eppenberger -- HuschBerger.
Bryan Cave -- B-Cave (has a nice hip-hop sound to it)
Monsees, Miller, Mayer, Presley, Amick -- Let's go with a modern art reference like Mo Mi Ma.
Bartimus, Frickleton, Robertson & Gorny -- I like Bartickleton.
Simmons Browder Gianaris Angelides & Barnerd -- This was hard. My first idea was SB-GAB, but that's probably the internal nickname for the firm. SimBrow came to mind, but it's too formulaic. I settled on the name that the firm actually uses: The Simmons Firm.

How would you shorten the names of law firms in your city? Add a comment and try your hand at shortening law firm names.